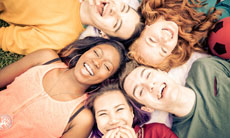 Thousands of youth entering grades nine through 12 across the metro will have free access to the Y's health and wellness and youth enrichment programs all summer long
Minneapolis, MN – The Richard M. Schulze Family Foundation and the YMCA of the North (YGTC), a leading nonprofit dedicated to strengthening communities through youth development, healthy living and social responsibility, will offer free summer memberships for thousands of teens across the Twin Cities.  From June 12 to September 1, 2017, youth entering grades nine through 12 can access a free membership to 25 YMCA locations throughout the Twin Cities.
Statistics show that risky behaviors like violence, drinking and drug use increase during the summer when young people's time is less structured. According to Pew Research Center, only 20 percent of today's 16 to 17 year-olds hold a summer job, and that rate is even lower among teens of color. Participation rates in camps and similar programs have remained stagnant or fallen in recent years. Teens need a safe place to go in their communities that is flexible, engaging and accessible to all.
In addition, some teens do not have access to a nutritious meal during the summer.  To meet the need, the program is also offering free dinner at several locations.
"We believe supporting the YMCA summer program is a unique opportunity to directly provide an educational and enriching experience for teens and their families during the summer months," said Mark Dienhart, president and CEO of the Schulze Family Foundation. "This program will offer a safe space for teens to spend time and make new friends, to get social and physical activity opportunities, to connect with caring adults, to gain leadership development, to offer service learning opportunities and to explore a pathway to part-time jobs at the Y."
"Summer enrichment programs are key to helping teens enhance their skills from the school year and not let them slide," said Senator Al Franken, co-chair of the Senate Afterschool Caucus.  "The YMCA's new summer membership initiative further illustrates their leadership in providing Twin Cities youth with important opportunities to further their education and improve their health and well-being, and I am thankful for these efforts."
The YGTC is positioned to help bridge this gap in the Twin Cities and ensure that youth of all backgrounds and incomes have access to learning opportunities outside of school. The YGTC's locations cut across city, county and school district boundaries. More than 80 percent of Twin Cities teens live within 15 minutes of a YMCA location that offers opportunities for wellness, sports, leadership programs, pathways to part-time jobs at the Y and more.
"The YMCA is thrilled to partner with the Schulze Family Foundation to provide a safe environment for young people to engage in programs that promote healthy living, build character and leadership, and support success in school and in life," said Glen Gunderson, president and chief executive officer for the YGTC. "The Y is committed to eliminating barriers to participation so all have the opportunity to learn, grow and thrive during the summer months. I am grateful for the incredible support over the years from Dick, his family and Foundation. This program will benefit from $500,000 of the more than $6 million they have provided to YGTC in recent years. Their gifts have elevated youth programming all across the Twin Cities and we are so appreciative for their partnership and support."
The program is open to all students of all backgrounds and incomes. Youth entering grades nine through 12 can visit any participating Y location beginning June 1 to enroll with a valid ID, class schedule or report card and the permission of an adult. Each participating location can accommodate up to 200 participants for nearly 5,000 teens in 2017. The program is planned to be repeated in 2018 and 2019 as well. For more information, visit ymcamn.org/getsummer.
About the Richard M. Schulze Family Foundation
The Richard M. Schulze Family Foundation (RMSFF) was created in 2004 by Best Buy founder, Dick Schulze, as a way to give back to the community where Dick and his family grew up and where he built Best Buy to become the world's largest consumer electronics retailer. Schulze and his family believe that a good education, a supportive family and a strong work ethic prepare children for a successful future. To support that belief, it supports organizations operating in the areas of human & social services, education, including scholarship awards to graduating students from eligible high schools, and health & medicine.
About the YMCA of the North
The YMCA of the North is a leading nonprofit dedicated to strengthening communities through youth development, healthy living and social responsibility.  Established 161 years ago, the Ys provide life-strengthening services across 12 counties of the greater Twin Cities metro region and western Wisconsin communities.  The 28 Y locations and program sites, seven overnight camps, 10 day camps, and more than 90 child care sites engage more than 350,000 men, women and children of all ages, incomes and backgrounds.  To learn more about the Y's mission and work, visit www.ymcamn.org.