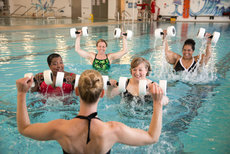 Happy, Healthy, Helpful
The Y, my home away from home
The YMCA of the North, a leading nonprofit dedicated to strengthening communities through youth development, healthy living and social responsibility, will celebrate ForeverWell  Healthy Aging Day on Wednesday, May 23, 2018.
Twenty-four Y locations across the Twin Cities will be participating. Members and guests will enjoy an open house with special events and programs promoting overall well-being through fun social activities, meaningful volunteer opportunities, fitness classes, fitness testing, fall risk assessments, educational sessions and more.
"The YMCA is committed to engaging seniors in programs that keep them active physically, mentally and socially," said Glen Gunderson, YMCA president and CEO. "Healthy Aging Day is a celebration of our ForeverWell community of adults ages 65 and older and provides an opportunity to experience even more educational, enriching activities."
WHO:
YMCA of the North
WHAT:
ForeverWell Senior Healthy Aging Day
WHERE:
24 YMCA locations across the Twin Cities
WHEN:
Wednesday, May 23, 2018